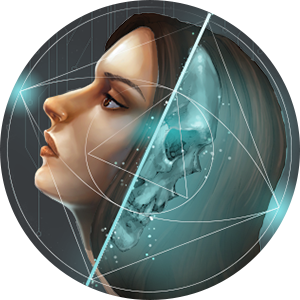 ABOUT STASIS WAKE
At the advent of deep space exploration, scientist Ria discovers that she can communicate to the dead through stabilized dreamworlds created in stasis. As she unravels a web of corruption and deceit while dealing with her own ghosts, the world soon discovers that their secrets are no longer buried with the dead.

ABOUT THE CREATOR
M.Kalo is a product designer by day and an amateur comic book and conceptual artist by night. She drinks too much and has a skull fetish.
FAQ
These questions aren't actually frequently asked.
What kind of comic is this?
S/W is a what I like to call a "light sci-fi." It takes place in the not so distant future at the genesis of deep space exploration. The comic explores the infinity of the mind more so than the infinity of space.
How often do you update?
I try to do about 2 updates a month but I'm an adult with adult concerns so sometimes it's just 1. 🙁 Someday that might change but unless a bunch of money falls into my lap I need a way to pay for food.

BLOG
This space will feature not only blog posts but news, events, really anything new about the comic. Be sure to check back for the most recent updates!
Huge struggles trying to figure out why my tablet didn't work. Turns out they pushed an update that made it so the pen clicked and dragged which... kind of makes it impossible to paint. Anyway, enjoy the new page. 😛
read more
FOLLOW ME
While Stasis Wake is under development and website updates are reserved for hallmark events, my social media outlets feature daily content. Click the links to explore art on my Instagram, and Deviant Art, and Facebook accounts!